You can find us in Via alla Roggia 32
6962 Lugano, quarter of Viganello
For who it reaches in car
From Milan:
on the freeway Laghi direction Chiasso (Switzerland) until the border Italian-Swiss,
then to continue on the freeway A2 direction Lugano. Exit Lugano south and continue in direction of the lake. Once joints to the lake, you will find a traffic-lights. Turn on the left and coast the lake for 2 km until you will have exceeded the Casin˛ Kursaal, the Palazzo dei congressi, the Parco Ciani and the bridge on the river Cassarate. Once exceeded the bridge, to continue along the tree-lined tree-lined avenue that calls Viale Castagnola, where on the left you will see the Centro Esposizioni. You cover saying tree-lined avenue until the height of a cross-sectional
road that calls Viale dei Faggi. Turn long the Viale dei Faggi and you head towards the quarter of Viganello. Our seat is in Via alla Roggia 32, that it is one cross-sectional of Viale dei Faggi. Our office is in proximity of the church of Viganello, of the Denner supermarket and the playpark.
For who it reaches in train:
From the station of Lugano can be taken the bus N░ 2 in direction of Viganello and that will involve one transfer of approximately 10/15 minutes to dependency from the city traffic. Before being able to come down from the bus, 7 stopped must pass. We advise you to count them because the bus do not stopped if there are no customers. The stopped in the neighbor to our office finds itself in proximity of the church of Viganello. The stopped is called for the note: "Chiesa".
our office

MIRALUX FIDUCIARIA

we are on the
6. level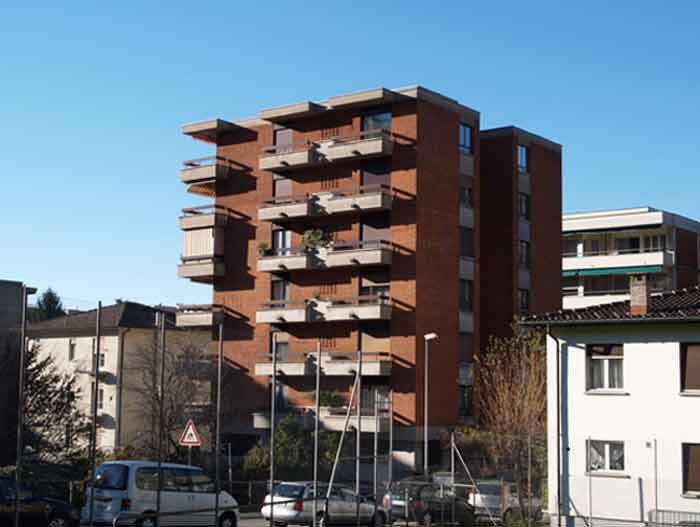 of flank to
our seat
you found a
Church and
a playpark